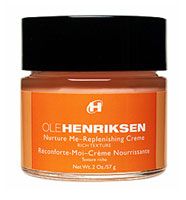 Ole Henriksen Nurture Me Soothing Creme
As low as
Not for me!

Let me say it bluntly---I have TERRIBLE skin (mostly due to hereditary and the fact that I live in a desert). I have acne, uneven texture, rosacea AND eczema. Ole Henriksen's Nurture me is formulated to soothe ultra dry skin and comfort sensitive skin, particularly for rosacea sufferers. Just by looking at the label I was determined to buy it. Here's another thing about my skin. It doesn't absorb ...read morevery well (even using a Clarisonic). I cannot tell you how many moisturizers I've been through that either wasn't adequate enough and my skin felt tight and under-nourished, or TOO rich that it made me break out. I've tried EVERYTHING so I was hoping that this was going to be the 'one' for me. The moisturizer to end the search for moisturizers. Unfortunately, this wasn't the one! The scent alone makes me want to lick my fingers (it smells like orange creamsicle!!!!) It's thick and creamy, but that has become my woe because creams can be too thick where it will sit on top of my skin (and gels penetrate too quickly for me). For those searching for a thick and creamy moisturizer for ultra dry skin, try this and see. For me it was too thick where I started breaking out (again) and my face was oily in the morning--probably because this cream has wheat germ, rose mosquette, and primrose oils which are suppose to soothe and hydrate and repair the skin. This also has Vitamins A, C, and E which nourish the skin. However, I noticed there was dimethicone---something my skin does not like very much! So in a nutshell, buyer beware. Although I had high hopes for this, it's unfortunate that it's just another product that is going on my list of "did not work for me" moisturizers. The hunt continues! Unless you have super awful skin like me, then you're likely going to have a much better experience than I had!

Great for dry skin

I have dry, red, and sensitive skin. I have eczema also. It is hard to find a cream that has enough moisture to compensate for all those dry skin troubles!! This cream is highly moisturizing, but it absorbs into the skin very quickly. It smells great. I will note however that I don't think it would be for oily skin types, or even combination skin types. It is meant for those very dry skin types who need all types of moisture. If that is you, then this is the cream for you!

Awesome

This cream is wonderful. I ahve drier skin, and this is plenty of moisture, and my makeup goes on so smooth, and it smells great. I highly recommend.
Back
to top