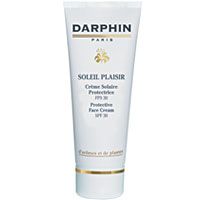 Darphin Soleil Plaisir
As low as
total protection

I have sensitive, reactive skin and I am adamant about sun protection, all year round and even in the shade. I find that most suncare products tend to make my face shiny after a few hours, and also they feel "heavy" on a hot day -Soleil Plaisir does not. I used it over the soothing intral balm and under light make-up or a tinted moisturizer every day and it worked fine. It also comes in a generous 75ml tube - it lasted me from June to October.

If You Don't Want To Smell like a Pina Colada...

No offense, but I'm over all the cocktail-y smelling sunscreens and prefer something really clean and posh-spa vacation smelling than to smell like a sophomore on Spring Break! This sunscreen feels really luxurious on --it's not greasy or white-ish like many I've tried for my face. Just leaves skin soft. I have not tried this one under makeup, but on a naked face, it's great for regular sun prote...read morection like for talking a walk or a day at the beach. Don't know if it's actually preventing wrinkles, but it prevents sunburn for me and feels like a real face cream.
Back
to top