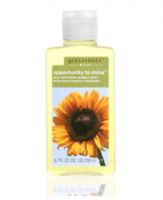 Grassroots Research Labs Grassroots Opportunity To Shine Skin Softening Bubble Bath
As low as
Very bland

This bubble bath actually smells very nice, but the scent just isn't strong enough for my taste. I can smell a faint whiff of it when I add it to the bathwater, but the smell dissipates very quickly, along with the bubbles. This would work fine if you just want to get clean, but if you are looking for an aromatic bath with lots of rich, long-lasting suds, I would look elsewhere.

Disagree with Jessica....

This bubble bath is not loaded with scent, because there is no artificial fragrance added. Like the rest of the Grassroots line, it is the essential oils that you smell. Lots of organic and natural ingredients in this, and the rest of the line. SOrry to say, that 3/4 of the Grassroots line is being discontinued. They are going to focus on the Grassroots Research Labs portion of the line and ad...read mored products there. This bubble bath, while still around does what it says....softens the skin! With my very sensitive skin, I appreciate the low scent, and high results of taking care of my skin.
Back
to top