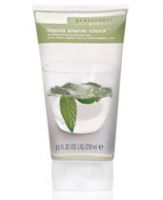 Disappointing scent

I love the Grassroots body lotions, but I was disappointed in this product. I was expecting a really fragrant, minty scent, but it was pretty mild and not very minty--certainly not strong enough to wake me up in the shower. It worked fine as an average shower gel, but the lack of minty fragrance was a bummer. I wouldn't buy it again.

Bring a coffee with you

It didn't wake me up,it was ok, not great. The soap has a nice smell,but did not foam up alot .I still have 3/4 of a bottle.I would not buy again

21 Best Soaps

Exclusively from the editors at Total Beauty

Get the Buying Guide to see these top-rated products!

Get it now »

Total pick me up!

This is exactly what is says, a liquid alarm clock. The tingly, minty shower gel really gets you going. I love this stuff!
Back
to top