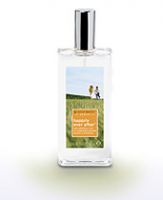 Very clean scent

I love to smeel this scent it is so refreshing

Zernelle.....a few observations....and suggestions.

Just to let you know you are right about this not being a perfume. It is a scent. It containes the essential oils from the fragrances mentioned. It won't last as long because of that fact. But, there are also a few personal reasons why it may not have lasted on you as long as it does me, or the other reviewer. It may be your body chemistry. It's a fact that this aspect does have an effect on...read more fragrances. Whether they are perfumes, or body sprays, etc. There really is nt much you can do about it, but I would suggest going back to Kohl's...also try the body cream that matches the scent, and then spray the scent on too. Layering fragrances always makes them last longer on people. Especially if they have a body chemistry that makes scents fade. Just a suggestion.

Nice scent, zero lasting power

I tested this while shopping at Kohls recently. I really liked the way it smelled when I first sprayed it on, and I loved the idea of a more natural fragrance. It has essential oils of florentine orange, jasmine, and spearmint. However, when I checked my wrist four hours later to see how it smelled, I couldn't detect it at all, and I'm very sensitive to fragrance. I won't waste my money on a fragrance that can't last even a few hours.
Back
to top