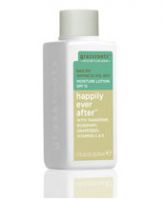 Grassroots Research Labs Grassroots Happily Ever After Moisture Lotion SPF 15
As low as
Not great

I tried this lotion after trying the cream formula, but it was still too oily for me. I have normal/combination skin, and this left me feeling greasy. I didn't particularly like the fragrance, either--it's not that it smelled bad, but I don't like that much scent in a facial product. I wouldn't buy it again.

Best lotion for dry skin and hands

I offered a bottle of this lotion to my brother is takes medication that causes his skin to crack and dryout. After one use he skin had stopped cracking. His hands looked 100% better. He told me to buy as much as I could. Shortly thereafter I found out Kohls would no longer carry the product and we must purchase it on line. For us it is the best product for dry skin. I would choose it everytime over other lotions.

I disagree with Jessica

The lotion formula of Happily Ever After is a thinner consistancy than the cream. I use the cream in the winter as my skin is dryer, and switch to the lotion in the summer when my skin is a bit oilier. Maybe her skin has more oil than she thinks. She might try the oil controlling moisturizer from the Good Skin line also at Kohl's. It is called Clean Skin Moisture Lotion. It's great!!
Back
to top