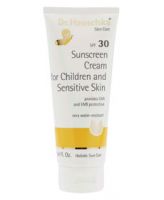 Dr. Hauschka Sunscreen Cream for Children and Sensitive Skin SPF 30
As low as
Decent Sunscreen

This is a very thick sunscreen, that leaves my face very white after use. However this sunscreen does not break my skin out, and I have yet to burn at all with it on. Usually I turn a little red after being in the sun. I wear it when I go to the beach, or when I'm going to be working out in the sun all day. Great protection! When using this product use as little as possible and try to rub it in as best you can.

Depends on what you're looking for

This offers a super-high degree of protection without irritation or breakouts (from my experience). It is *thick* though, and even when use a minimal amount left me with a ghostly white face, even after I gave it time to soak in. So... I use it when I'm running or hiking outdoors (and not looking to impress anyone). There are better mineral sunscreens to use under make-up (like Mychelle), but t...read morehis one certainly has staying power. Not sure how easy it would be to spread on soft baby skin though...Overall, lots of protection, but not good for everyday use.
Back
to top