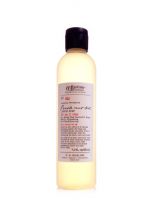 C.O. Bigelow Peach Nut Oil Cleanser
As low as
It Works Great For Even The Most Sensitive of Skins!

I now that this cleanser is touted as being able to be used all over the body. However, the only place that I used it on was my face. This cleanser has some slip. As, this allows for it to be greatly hydrating, yet rub against the face like silk. And, best of all it is non-clogging to the pores. So, I didn't get a increase in breakouts after using this stuff.

OK but doesn't foam well

This is ok...I like that it is multi-purpose and natural, but it didn't foam very well and smelled a little weird. I like the Dr. Brommer soap better, and it comes in many scentsand an unscented version, unlike this one strange scent.

Perfect! Really delivers!

I first used this at my mother's house because it was all she had. I loved it instantly! It leaves your skin so SOFT but, NOT greasy at all! My moderate acne cleared up after just two uses... NO KIDDING! I also have a pretty horrible patch of dermatitis on the back of my scalp and it soothed the itch and calmed my "fly aways." I have used it on my four year old daughters eczema as well a...read morend it really helped! Smells great! Removes eye makeup! The list could go on and on.... GREAT PRICE!
Back
to top