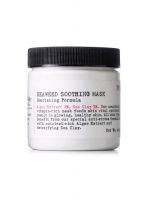 C.O. Bigelow Seaweed Soothing Mask
As low as
I liked it

My girl got this mask for herself but experimented on me. I was suprised at how clean it left my skin. I felt like every pore got everything sucked out of it. Amazingly clean.

It's Not Suppose to Dry, but it's effective

I went to an Bath and Body Works outlet and got the mask for less than $5.00. I haven't been using the mask as I should, but there has been a difference noticed when I use it. My family tells me my face looks younger, clearer, and more even. If you can get it on sale I would try it, but I don't think any mask is worth $18.00.
Back
to top