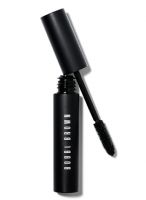 Unsatisfactory

Since I had been overall pleased with the other Bobbi Brown makeup products I used I decided to give this a try. I was quite disappointed in this mascara. There was NO noticable lenthening and it took several coats to make any sort of difference at all. The consistency of this mascara seemed "wetter" than most. This is probably what led it to smudge. Smuding was continuous throughout the...read more day. I tossed this mascara after about a week. Definitely will not purchase this again.

No Smudge PLUS Lash Glamour together = 10+

My Bobbie Brown Rep showed me how to layer the no smudge first - let dry - just a minute - then apply lash glamour on top. Tres tres bien!! My eyelashes looked just as good at the end of the day as they did that morning. I have tried all kinds of mascaras - Dior, Chanel, Sisley, Guerlain - but this new lyering techniques is the very best ever!

Smudgy

does not lengthen too terribly much. Very wet feeling. Smudges a lot if you don't give it enought time to dry, but it is nice for a natural look.
Back
to top