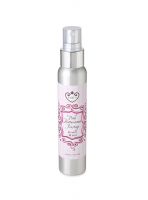 Jaqua Butter Cream Frosting Body Mist
As low as
yum

you know its funny how many people are hating this! i love it, it smells just like it says, and to me, its like birthday cake all the way! i have a ltion like this too, and i used to put it on at work, and people [especially guys!!] would come by looking for the yummy food they smelled, only to find it wasn't real food! disapointment! to me the only really bad thing is you cant eat it!

If You Like To Smell Like Cake...

Buy this if you like smelling exactly like a piece of cake. Yes, it does smell good- but oddly like real food.

It Does Smell like Buttercream!

I don't understand the reasoning behind anyone wanting to smell like food,but if you want to smell like buttercream, this is your body mist. I received a gift basket of Jacqua products and this was one of them. I have no desire to smell like buttercream or any other food for that matter. I found this almost sickening sweet and gave it away.
Back
to top