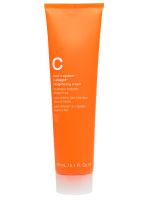 MOP C-System C-Straight Straightening Cream
As low as
just a dab

Not much is needed. I used it on my normally straight hair, that has just a touch of a perm left & it seamed to control it some.

Don't use if you're in a hurry

This product keeps your hair from frizzing up, but it looks greasy as a result. It also took FOREVER to dry my hair after using it. I thought I used too much, but the product just didn't work on my hair. It might work well for someone with thick hair. The plus is that it smells great.

Left my hair sticky and dry

Unfortunately, after using this product and blowing my hair dry, my hair feels sort of sticky and dry - definitely not run-your-fingers-through-it soft, as I'd hoped.
Back
to top