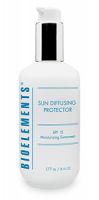 Great sun protector

I love this product. I love the feel of the product. Very light by very strong. Bioelements has it going on with this sun diffusing lotion. Easy to apply and last a long time in the sun.

Review subject

Lightweight moisturizer ample sunscreen for everyday use not direct sun exposure beautiful moisturizer !!! Great line bioelements love most of their products

Huge fan

I love all my Bioelements products, and this one I use everyday, summer and winter. I love the way it smells, very herbal and natural. I do wish the SPF was higher, and I am upset that they discontinued the Year Round Protector which was SPF 30. But since I still have this stuff, I am going to use it up, one bottle lasts about a year, I only use 2 pumps every morning. After that I will switch to a higher SPF lotion. I have to preserve my skin so it lasts me a lifetime!
Back
to top