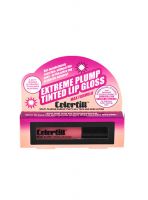 MY FAVORITE THING <3x1O

if i only get one thing on a desert island its this. i live it, more than anything else in makeup, ever!! it is soo tingly, your lips just vibrate, and ive tried every plumper and this is the only one with that numbing hum to it...im addicted!! plus it keeps my lips so moist, for soooo long...and it keeps them plump and juicy, the biggest they ever get. and shiny, and pretty!!! good taste too. and...read more cheap. 10 10 10 10 !!!![BTW if you DONT like burning/stinging/tingling/numbing plumpers, you will hate this. my sis, who is so sensitive to them, hates sally hansons whimpy plumper, and she tried this, and was like, crying, and demanding why i could stand this at all....so be warned. its deliciously INTENSE!!]

Loved it

I love it I use it every day and even got a few of my friends turned onto it, It does tingle but it didnt burn me.

amazing!!

I love this, it tingles and it makes my lips bigger and glossier than any other lip plumper. the only down side is its kinda sticky.. but im totally buying more!
Back
to top