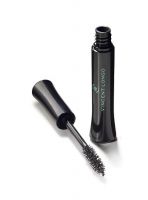 Vincent Longo Volume Riche Mascara

I really liked Vincent Longo's original mascara, so I decided to try this one too. I wasn't as thrilled with it as I was the original, it did make my lashes look thicker, but it did not add to the length very well. It didn't hold a curl as well as the orinal either. It didn't flake, but it did smudge, but then again, I am extremely oily, so that probably didn't help much. I think I will just stick to the original mascara from this line.

sooo increable

this is hthe best waterproof mascara i have used in a long time.. i have been using it forever and it still goes on the way it did when i bought it. i love it. looks natural and stood up to the heat...it was 95 outside and it didnt smudge or flake, after being out for 8hrs love it love it love it

Pretty good

I read a ton of reviews before committing to this product, which I bought in black. I was really excited, since most reviews said it was amazing. But honestly, for the price ($23 regularly), I feel like it could have been better. Don't get me wrong, the mascara was good but didn't give me the amazing transformation I expected. There were a few main things that I found wrong with this product. Firs...read moret, I have thin lashes, and although it did pump them up a little, this mascara wasn't any better than a L'oreal or Maybelline mascara in the volumizing area. Save your money. Secondly, there is very little product, so this will run out pretty quickly. Also, many people might find it difficult to use this product because it tends to be clumpy, and much of the product that you DO get in this little package gets stuck to the end of the applicator. All in all, not that impressive.
Back
to top