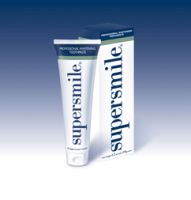 YES!

My mother took an antibiotic when she was pregnant with me, assured by her physician that it would not harm me. I have very little enamel on my adult teeth due to this, mainly dentin (the secondary layer, which is yellow by nature). I've spent a good part of my life mixing baking soda and peroxide to try to improve my smile, and this goes a LONG WAY in giving me confidence. It whitens what can be whitened, lightens the yellow, and keeps the surface ultra-clean.

not bad

My teeth looked a little brighter with this toothpaste, not that much more than drugstore whitening toothpaste though. It irritated my gums a little when I first started using it.

Supersmile Toothpaste

This toothpaste is ok but honestly not worth the price. I've just finished a whole tube, brushing twice a day for at least two minutes each time (my toothbrush has a timer on it) just like it says in the insert to do. My teeth are not really any whiter than when I started using it. I would recommend just using a good drugstore brand like rembrant, pearl drops or plus white. I have tried them all and they seem to whiten better than this brand and are a lot cheaper.
Back
to top