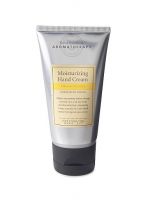 Very Nice to your Hands

I like this stuff a lot. A little heavy or greasy in some of the formulas or scents but you can get around that pretty easily with a light touch. It has a rich moisturizing formula for the dryest hands-I use it in places like heels and elbows too. The scents vary by what you like-some will not like the same ones others do as scents are pretty personal. The Eucylyptus & Spearmint are very clean, pretty and refreshing. I sometimes even run a little through my hair. Good Stuff.

Orange Ginger

I first experienced this product at the Mariott in Myrtle Beach SC during vacation - they had a beauitful little basket filled with hand lotion, shampoo/condition, body wash and a bar of soap..... (small size of course) but none the less enough of the product for several days use. The Hand lotion SMELLS HEAVENLY!!! I'd never heard of Orange Ginger before this.... leaves your hands soft and smoot...read moreh not too mention the wonderful smell..... If you want a nice refreshing scent - try this particular line of aromaterapy from Bath and Body works.... I loved it so much I just had to have the full size - now it's used daily!!! my husband even appreciates the wonderful smell.....

Great hand cream

This hand cream keeps your hands soft and moisturized longer than other brands, which I like. I bought it for the scent, however, and although I do love it, I find it fades more quickly than the body lotion, which surprised me. Still, it's better for my hands than the body lotion!
Back
to top