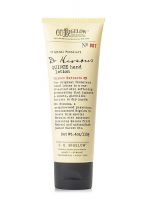 Solid hand lotion

It really does make your hands soft and actually absorbs into the skin rather than sits on top of it. The smell is a little strange to me which is the only thing I don't like about it. It has a "I can't quite place it" smell which reminds me of something with a little menthol in it. I use it at night before I sleep. Wear cotton gloves and in the morning, your hands will be so soft. I even use it on my boyfriend's rough hands!

Worth the price for a fantastic hand lotion : )

At first I thought-quince? What IS that? And why would I put it on my hands? But since I got a small tube as a gift I figured might as well give it a go...wow! This is GREAT stuff : ) The claim is that it is fragrance free but I swear it does have a very light smell that reminds me of grapefruit. The smell doesn't last and somehow had really grown on me. I find that it works best for use a...read morefter washing hands or if I'm playing on my laptop and need the occasional bit o' lotion. It's not really strong enough for winter-chapped skin though-I would use Bath & Body Works "Look Ma New Hands" for truly messed up skin. But for everyday use this is perfect and best of all-not greasy. two thumbs (and eight other fingers) up!!

Love it!

I put this lotion on every night before I go to bed and I always have the softest hand.
Back
to top