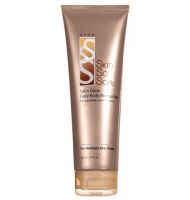 Perfume-y but works!

This product actually comes in a lotion and also a gel; I purchased the gel. I don't normally order Avon products to be honest since they aren't "readily available" at any store. I have used A LOT of self-tanners, gradual tanners and bronzers. I would say this one is right in the middle; not the best but definitely not the worst. This is what I call a "expedited gradual tanner;" it takes about 3 d...read moreays to get the color versus 7 for a gradual tanner and 1 for a self-tanner. I love the quicker gradual tanners because you still have the benefit of less odor and streaking, and easier application (due to less immediate color) but it doesn't take a whole 7 days for the effect. On the downside, there is a mild self-tanner smell after it dries, and before it dries it has a strong perfume-y smell and I could smell a bit of alcohol, probably because it is a gel and all. On the plus side, even though it is a gel, I would describe it as a baby oil gel with really nice moisturizing properties. Ocean Potion Ever Glow is my go to gradual tanner, but for a faster look, this isn't a bad option. I also found the color to be natural.

Not recommended

I thought this was a very sub-par self-tanner. It was so thick that it was hard to really rub on evenly, yet it somehow dried really fast. This resulted in a less even tan than I'd like (even when that tan took days to show up, as this doesn't give very dark results). I also thought it smelled pretty bad...not as bad as the Jergens stuff, but bad.

Love it!

This has none of the chemical smell that other daily tanning moisturizers have and I never end up with streaks. Leaves a very natural looking color!
Back
to top