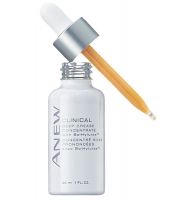 at 25, you gotta get started...

i have the very faintest start of a line across my forhead, that everyone swears they dont see but I CAN SEE IT... and i know where thats headed. so i got this, after trying every line elimanator i could fine, and this seems to be helping. i hate the golden color bc it actually shows on my ultra pale skin if its alone, but you know, you gotta compromise. it works, and for a few little lines, itll probly expire before i run out!

Amazing

I am very saddened that Avon has discontinued this exact packaging/product. I could tap it lightly into lines or creases and they would be gone. I'd throw it in my bag for reapplications during the day or night, not because they were needed because the product works so well but because it seemed to be the ONLY product that claimed to have a line freezing agent that actually DID freeze. It was truly botox in a bottle. Adieu and farewell, you will be missed!

Don't waste your money

I was gifted the first bottle, and thought that perhaps it just needed more time, or had gotten cold while in the car at Xmas. but, on the second bottle, i realized that it did not work as well as other products I found at cosmetic stores. i will not be purchasing another.
Back
to top