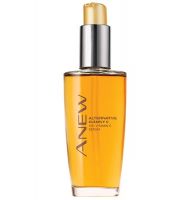 Amazing product

For the price this is an amazing product. It really works and smooths the texture of your face immediately. I have tried very expensive vitamin c products and nothing works as fast at this product. Love it.

twice a day, every day

everyone should use this, everyday, no matter your needs or problems, if your skins in good shape or not, at any age. granted it does smell odd, and if you use it in the morning youre gonna net some powder to dull the gleam it leaves, there is no other product on the market at this price with the same level of vitamin c. you know it has to bee at least 10% or its not gonna work. my skin glows, is ...read moresofter and my spots, marks and scars [from cyclic acne]fade much faster b/c of this. i <3 this so much, and im so glad it came back from avons' dicontinued list. you wont be disapointed by this.

Wish it worked for me

I tried this product with such high hopes because I know how good a vitamin c is for your skin, especially in a serum like this. For me, the serum never sank in and left my face incredibly sticky no matter how little I used. I had to exchange my first bottle for another because the first bottle started to smell rancid after just a couple of weeks. I really wanted this product to work for me, but the acne flare ups and greasy residue just didn't cut it.
Back
to top