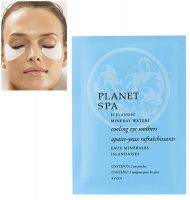 Avon Planet Spa Icelandic Minerals Waters Cooling Eye Soothers
As low as
cant get enough of these

i cant find anyone who sells them anymore either...i think they are discontinued...i really liked them, so fresh and cool, id wear them on my way to work some mornings, lol, panda commute! but they kept my under eyes smooth and tight allllll day. now im out, and i miss them alot!

Hmmmm....

Well, maybe it's just me but these made my eye area feel "burny". Almost reminded me of putting vicks vapor rub on my face. It had that same kinda smell. Anyway, I personally just didn't like the way it felt or smelled.
Back
to top