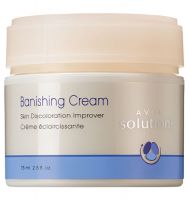 I'll never know...

Too bad I will never be able to tell if it works because this product is too greasy to keep using. This product doesn't absorb well and my skin feels like it has a heavy film over it. Reminds me why I stopped using Avon products long ago...

Not great

Didn't really do anything helpful for me.

Great Face Cream

I use this in the evening and morning to lighten the acne marks that are on my face. It works great and doesn't clog my face up. Skin is smooth and my dark marks are lightening up. I have fair skin and the marks are pink, to brownish pink in color. The darkest ones are still noticeable however all pink marks are gone.
Back
to top