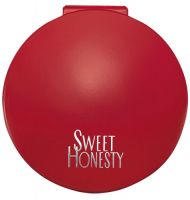 Avon Solid Fragrance Compact
As low as
I think my grandmother used these

I love the no spill form to carry in my purse

Love them!

love them..easily fits in my purse.

SWEET HONESTY THE 1ST SCENT I EVER HAD AS A TEENAGER

THIS SCENT IS SOFT NOT OVERPOWERING AT ALL THE SOLID COMPACT I THINK MAKES THE SCENT STAY ON YOU LONGER.MY PARENTS GAVE ME THIS AS A CHRISTMAS PRESENT WHEN I WAS 15YRS OLD NOT WANTING ME TO HAVE ANYTHING TO STRONG SINCE I AM SENSATIVE TO STRONG PERFUMES I THINK IT IS PERFECT FOR A YOUNG GIRL WHO WANTS TO WEAR A SCENT THAT WON'T OFFEND ANYONE.THIS SCENT I THINK IS A CLASSIC FOR AVON.KUDDO'S AVON TH...read moreIS SCENT BRINGS BACK ALOT OF HAPPY MEMORIES TO ME.AND I WILL LET MY DAUGHTER WEAR IT WHENEVER SHE WANTS.
Back
to top