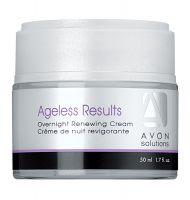 Didn't work out for me

I tried this in conjunction with the day creme, and I will never use these products again. The day creme made my face burn. This just left it with a huge greasey slick that ended up with a massive acne breakout. Maybe the lotion is just to heavy for me, or there is something in it that I cannot use. I use other products from the age-specific lines with no problems.

DON'T WORK

this productis a lie and does not work the way it says it works. my grandmother and mother-in-law both use this product and there is no real difference at all. it does feel nice while appling but that's about it. it is not worth the price you pay for it at all.

Not so great

Compared to other creams I've used, this really didn't live up to the hype. I saw no real difference and felt that I'd wasted my money. I'd never buy it again.
Back
to top