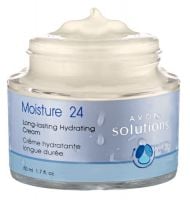 feels great

when your skins really dry and tight, this is so soothing, and refreshing, but not heavy at all. i dont know if id use it all the time, bc i dont need something this heavy duty all the time, but i keep it around for those times when i really need an extra moisture boost.

Good to always have on hand!

This is a good moisturizer, I liked it better before it was a gel cream, but it is still moisture-full and still lets me last, perhaps not 24 hours but at least 8 hours at work! Good for someone with very dry skin during the summer.

too greasy

I have super dry skin and used this cream but it didn't help my dry skin an it felt really greasy after I applied it on my face.
Back
to top