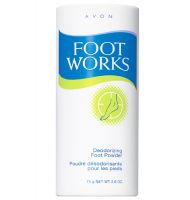 works great

I sprinkle this powder into my shoes right after I take off my sneakers/boots/dress shoes, and I have never gotten a stinky pair of shoes. I also sprinkle a little of this when I have sweaty feet for smooth dry feet, but sprinkle too much and you'll have white footprints everywhere. Smells like deodorizer, nothing perfumy, so both men and women can use this.

Both my husband and son use it.

They apply it to their feet and shoes, keeps them drier and not as smelly. We have been using this product line since it was introduced!The great thing is that the product line is always on sale and I can get great bargains! Better than grocery or drug store!

Avon foot works deodorizing foot powder

This is great stuff. I use it, it works great, and feels really soft and silky when I put it on my feet. I also sprinkle it in my sneakers to keep away odors from sweaty feet. I recommend it!
Back
to top