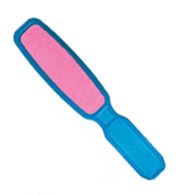 Not very robust!

This product works pretty well, and does a decent job of removing rough skin if you use it regularly. The plastic handle is not very sturdy though, and mine snapped pretty easily. I can still use it, although with some difficulty, and it removes callused skin well if used after having a bath or shower. If you have real problem hard skin you will need a more robust product than this though.

Horrible!

I tried this and it didn't work. The pink area started to peel off after one use. Dr. Scholl's works ten times better. I will never buy this product!

Great for cracked heels!

I have issues with both eczema and psoriasis on my feet and tend to have very painful cracked heels. The medications my doctors, including dermatologist, help, but the Avon Foot Works foot file pushes my feet into complete healing. Meds alone don't usually resolve the cracked heels. But when I use them in conjunction with this foot file, my feet and heels are smooth and healthy! The price tag he...read morelps, too! I typically buy them on sale when they're $1.99 and I'll buy 6 at a time. The foot file may be good for anwhere from 2 or 3 uses to a dozen uses, depending how bad my feet are. I love the results every time, so it's always worth using!!!
Back
to top