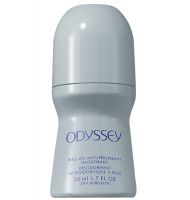 soapy smell

This deo smells like soap, so I have clean scent that lasts all day when I wear this. It doesn't change scent all day, and stays strong, I almost want to use this as my perfume as a super cheap alternative!

Avon Deodarant:

I just have to say, I reall do not like The Avon Deodarants too much. The reason why is because when you put it, okay your thinking: all right this time my dodarant is going to last longer and not fade away. Sure it doesn't fad away, but it leaves a white shadowy look underneath your arms. You can stil smell the smell of it, but it won't stay on that long. and plus after a reeeeeaaaaally long ...read moreday, it will start wearing out and then you wiil soon be upset with the products. That why I only use this product for whenever I am going any where or doing anything that will keep me sweating for a lot of hours in a day. I use my other deodarants whenever I go somewhere because I know that this deodarant will stay on instead of the Avon deodarant will.!

Great Deodorant!

I've been using this deodorant off and on for over a decade and Iam pretty satisfied with it.It has a refreshing feel and most importantly works!
Back
to top