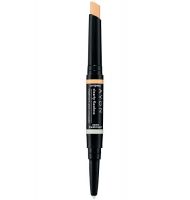 Avon Clearly Flawless Treatment and Concealer
As low as
Double Duty

I love that this concealer treats and covers all in one stick.

I just reciecved this in the knick of time for Christmas pictures..

I was very stressed with the holidays no wonder a pimple came out. I used the green end which is medicated to help the pimple go away. I found for me it kept it from getting bigger, along with the redness kept at bay. no-one could tell. I didn't find it drying. I would recommend someone to try it. within three days it was gone.
Back
to top