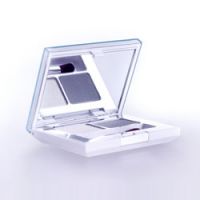 Lovely!

I got this from a friend and I've really enjoyed it! I forget what my particular duo is called, but one shade is white with gold shimmer and the other is pink with gold shimmer and I think both colors are beautiful! I use a Sephora brand shadow primer and I never have any trouble with this shadow creasing or coming off throughout the day. I can't wear this when I wear my contacts because of the sh...read moreimmer, but so far I've found that to be true of any eye shadow, regardless of brand or price. I'm happy my friend gave me this because the colors are lighter than what I would normally choose for myself, but they're great for making my eyes look brighter and complimenting my warm skin tone. I would buy these in other colors!

it's okay

i use the duo that i have mainly for highlight because the color goes on so light. it doesn't itch which is great and the price is also wonderful especially when you can get the duo on sale. maybe i need to try a darker set but it's a good buy but not he best i've ever used.

good colors, weird movie

I liked the Gilded set with gold and purple, it went on great once I used my own longer handled applicator. Theirs was WAY too short to use. It stayed on pretty well if I dusted my eyelids with powder first. I liked being to try it on in the store before buying. Weird movie, not sure if anyone used this product in it.
Back
to top