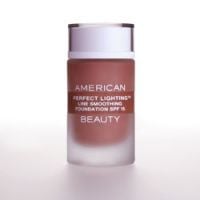 I love this foundation, I can't believe Kohls is discontinuing it

I went to buy another bottle of the Perfect Lighting this weekend at Kohls and they are all out. DISCONTINUED. It's the only foundation I have ever gone back and bought a second bottle. I have a container of more expensive Clinique and it's like spreading cement. The American Beauty is light, spreads beautifully and covers wonderfully. The Perfect Lighting leaves a nice dewy glow on my 65 year o...read moreld skin. Kohls is replacing the American Beauty with one of the new Mineral foundations. Talk about looking dull and pasty. I've tried several of the minerals and DON'T like the look.

Great foundation

I have been using this foundation for about 4 years now. I really like that is SPF15 unlike the other American Beauty foundation. I find it easy to match my skin color with either the cool or warm shades depending on the season. I like that it covers evenly and never feels greasy as was mentioned. It stays on all day and keeps me looking great. Yes you can save by using appropraite coupons.

Too Expensive for the Quality

I find that American Beauty is only worth buying when they have one of those 4 things for the price of 1 sales. This foundation is of drug-store quality and should not be department store priced. It is a little greasy and doesn't last that long- in fact, it shows if I shed a tear. Also, I haven't had luck with the shades, which are generally too dull or too bronzer-heavy.