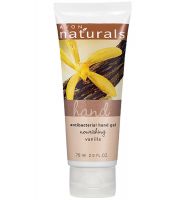 Irresistible and Effective!

Avon does a lot of things PERFECTLY. They were the first to introduce alpha hydroxy acids to women (and men). Their lotions (Care Deeply, Moisture Therapy, and Silicone Glove) are hard to beat for hydration. My husband and I LOVE the Avon "Naturals Antibacterial Hand Gel." The scents are hard to resist. We both leave them on our desks at school and the kids help themselves. So do we. When we do, we get a whiff of delight and a boost in confidence that germs are being killed!

Nice

Love avon hand gel, soothing and clean

Good deal!

Smells good, works well, easy to dispense. This is some good stuff :) It's second only to my Bath & Body Works stuff, because it comes in fewer scents.
Back
to top