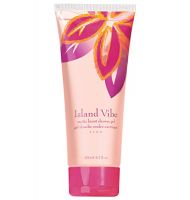 Avon Island Vibe Exotic Burst Shower Gel
As low as
for your goody stash

If you are like me, you have a box, basket, or something under your sink (or somewhere) with tubes, bottles, etc of shower gel. I get bored easily and need to find the right scent for the right time. This is a keeper. When you want to feel like your shower is a tropical getaway (away from stress, kids, hubby) then this is for you. Close your eyes and imagine Hawaii. Not coconutty at all.. just fresh, floral and dreamy! Priced well too!

get that island vibe

i really enjoyed my shower gel . the sent is very pleasent and the price was right .

21 Best Soaps

Exclusively from the editors at Total Beauty

Get the Buying Guide to see these top-rated products!

Get it now »

What a product!!

This product by avon Island Vibe smells really good and has you smelling good almost the whole day. I absolutley love this product to the fullest and it comes with a really cheap but worth it price $15.00( that's not so bad) Any ways i reccomend this to everyone it gives your skin a shine and it also has a perfume that i use daily well that's it i hope you try this cause you'll be addicted afterwards.
Back
to top