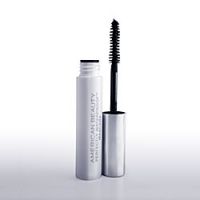 ok mascara

I like the way this wears all day without smudging. I would give it a higher rating if it had a better brush. The bristles are widely set apart, and it causes my lashes to clump a bit.

Too Thick??

My only complaint with this mascara is that it is too thick. On my lashes, I end up with gobby bits of wet mascara. It ends up getting all over my lids. I haven't had this problem with any other mascara so no, it isn't just me folks :) Yet, It doesn't irritate and does seem to last all day

Waterproof is great!

This a a waterproof mascara that stays on well, but comes off great without pulling out your lashes. With any waterproof mascara you need a good makeup remover that will cut through bright colors and waterproof products. One like American Beauty's Barefaced Beauty Makeup remover. At $12.50 it is JUST like is sister company's product Take the Day off" and Lancombs "Bi-Facial" but for MUCH less in cost.
Back
to top