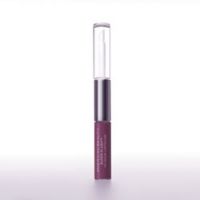 American Beauty Super Plush 10-Hour Lipcolor
As low as
Really stays on!

This lipcolor from American Beauty is really long wearing. You need their \"Barefaced Beauty Makeup Remover\" to get it off. The first reviewer was not totally correct. You CAN use other glosses ofer the color portion. I do it often, and the only thing that will wipe off is the over gloss. As this product is done by the Estee Lauder Companies, you can be sure it is a great product of high quality. American Beauty is part of the Beauty Boutique only available at Kohl\'s!

Not a big fan of this

I can't say I'm a big fan on this since it made my lips bleed really bad. There are tricks with wearing this too - you HAVE to start with perfectly clean dry lips - put the "stain" on and then wait for 1 minute. Aftwards you can ONLY use their clear coat. If you try and wear a regular gloss over it - you will ruin it's "lasting" capability. I tried the sample I got and did...read moren't know about not using another gloss on top. the color bled really bad and it looked like I had been punched. Getting what it still on off takes makeup remover - STRONG makeup remover. I had to do a major overhaul of my face before I looked normal again. Some people love it though.
Back
to top