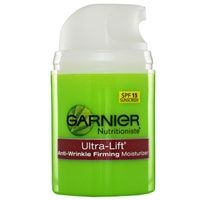 This does nothing for wrinkles.

It is simply a poor quality moisturizer - my face feels greasy as if the product wasn't absorbed.

Decent moisturizer

My face started showing signs of aging a few years ago, but at the same time I still suffer from adult acne. It is hard for me to find a facial moisturizer because I seek both acne treatment and anti-aging. I bought this Ultra Lift moisture cream because 1) the price was good, 2) the label said non-greasy and non-comedogenic and 3) it came with SPF 15. I think this was not so bad as daily moisturi...read morezer. My skin felt hydrated and my neck especially a bit firmer, but unfortunately my pimples kept coming back. If I had dry skin and without acne problem, I would have probably bought it again.

feels great, serious moisture locking ability

the way i decide if a moisturiser is heavy duty or not if if i use it, when i wake up in the morning is my face dry, with dry crnkles under my eyes, evenly normal, oily on my nose, or all over glowingly oily. this made it all over glowingly oily, which i guess means for dry skined girls itd be fab, and for me, well, i washed my moonbeam face in the morning to find plump, glowing, softer than ever ...read moreskin. yes i used the daycream at nite ;) during the day it'd just be too heavy though and i cant keep caking on the powder, but if i had to be in the sun a bit id use it anyway to keep the dehydration to a min. not for me, but i can see where this product should do just what it says!
Back
to top