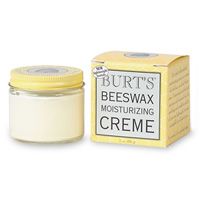 Too waxey

I felt like my skin couldn't absorb this cream very well. maybe it because of the wax i would not buy it again.

good for very dry skin

My skin really isn't dry enough for this one. I have normal to dry skin. I tried to use this every day, but it left my skin looking oily. I use it at night every once in a while if my skin is really dry. The one thing that I like about the product is that it is supposed to contain less chemicals (never really checked that claim though). If you have rellly dry skin, this might work pretty well for you.

Love bees.

I stand by this product 100%. My skin is a combination of oliy and dry however weather changes can affect the condition of my skin drasticly. During the winter my skin drys out and it is hard to find a face lotion that will balance the emense dryness as well as controlling the oils. This moisturizer soaks in with in seconds leaving an even soft surface for me to work with in doing my daily makeup!...read more It does not clog my pores and it controls the oil so that by the end of the day my face still looks fresh!
Back
to top