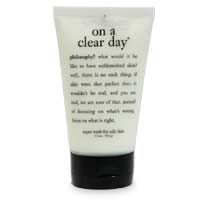 Philosophy on a Clear Day Super Wash for Oily Skin

This is a Holy Grail product for me. I have acne and very oily skin, and this is a remarkable product for my skin. It really deep cleans and soothes the irritation I get sometimes when I am flared up. I have used many cleansing products for acne, but this one works the best for me. It lasts me over a month, you don't need a lot of this product to cleanse well. The packaging is great, you can ...read morecontrol the amount of product that you use. This product is a great investment for your skin if you are oily or suffer from acne.

Not so clear

My son used "on a clear day" for 3 months and had little change in his acne. It did not get worse as some products have done in the past...but it did not clear him up, just managed what he had.

Love It

This is my favorite face wash. It doesn't smell bad it tingles and makes my skin look awesome; Clear, smooth and soft. I love the whole system they have.
Back
to top