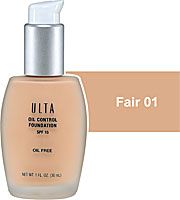 Ulta Oil Control Foundation SPF 15
As low as
Not Ulta's best

The colors were awful and it didn't last. I felt and LOOked like i had a mask on my face. I put this on and it just faded into my pores not even within hours. This won't do acne suffers justice because it doesn't cover up anything. Bottom Line- Stay far far away.

Not a good buy

It's thick and chunky instead of smooth and creamy. Or maybe mine was just really old and sat on the shelf too long. It also didn't match my skin tone.

junk

This did not cover at all and no matter how little I put on I looked like was wearing a mask! Not only that it settled into dry patches on my skin!