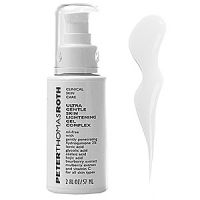 Peter Thomas Roth Ultra Gentle Skin Lightening Gel Complex
As low as
It didn't fade my marks

My husband and I went through IVF and suddenly I had some spots on my thighs and one on my hand. Unfortunately this product did not work well for me and I still have the spots. Perhaps I'll try again and stick with it even longer this time (if that works I will udpate this post).

Works very well

I really like this product it gets rid of the brown spots caused by my birth control pills. But it looks like they changed the formula to get rid of the skin lightening active ingrd.

Great for acne and sun spots

I have started using birth control patch and went on vacation and for the first time in 27 years got melasma( brown sun spot on my face) I have stoped using patch and it bought this product. Three weeks later, melasma spot along with other acne spots I had dissapeared. It really works as long as you apply it everyday. I have stopped using since I no longer need it.