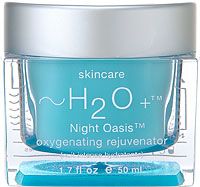 Refreshing.

I use this once in a while when my skin needs a moisture boost. It tingles on my skin because of the oxygenating aspect so I know its working =)

Average at Best

I hate to be the buzz kill on this after the glowing reviews but... I thought it was less than average. I've always liked H2O products but for some reason this one just didn't do it for me. I wasn't fond of the consistency and my skin certainly didn't look rejuvenated, oxygenated, or really that moisturized come morning. Everyone's skin is different and this one just didn't work for mine.

great stuff!!

I like the texture of this stuff and way it feels ...good moisturizer..I put it on and leave all night..