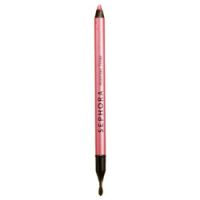 Editor's Rating & Review
8:30 a.m.: applied two coats of this matte liner. 9:15 a.m.: ate granola bar; drank water. 11 a.m.: ate yogurt; noticed liner residue on water cup. Noon: mirror check -- liner has left the building. Likes: The slim, long pencil is inexpensive, bold, a tad creamy and -- bonus! -- has a lip brush on one end. Dislikes: The cap slips too easily off the brush, which -- like the liner -- is harder than its expensive counterpart, Lancôme Le Lipstique.
Reviewed by Charli on 09/27/2007

How we review products
One of the best!

I use this liner daily! i live in Louisiana and it is HOT! You sweat just from walking to your car for your house! I can put this on in the morning before I leave ( I do use a smudge brush and smudge it in) and it is in the same spot when I come back in late in the evening. No touch ups required!

long lasting...

this was rather dry feeling , but that is understandable...it needs to be so it will last. Love the price and the color is super saturated...I bought the reddest shade they had. Helps a similar shade of lipstick last through food and drinks. I'd buy it again!

Great!

Love the Sephora products! Goes on smoothly and stays on... It's a deal for the price and the quality.
Back
to top