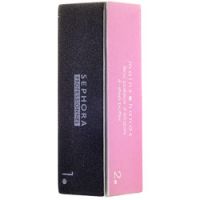 Sephora 4-Step Buffer
As low as
I Love This!

With this 4-Step Buffer you can get stunning non-polished fingernails. You use each step to sculpt and file your nails and then the magic happens! The softest part will literally buff your nails to a high shine! It looks like you are wearing a glossy top coat but it's your own natural nail! If you don't like to polish your nails or if you are in a hurry, this is the best tool to have around! It's simple and fast!

Naturally great looking nails

What a convenient little tool! I had no idea nails could get this shiny and healthy looking just from buffing away. The four sides are labeled with numbers and their purpose, so even I knew how to use it. If you take a little time with this, even just once a week, your nails look impeccable. The polish side blew me away. With just a bit of time and effort, your nails will look like they have topco...read moreat. Unlike topcoat, the nails won't get scratches or dull places from light abrasion. I would certainly recommend this to anyone who has a job that prohibits polish but wants their nails looking sharp and clean (nurses come to mind). Bonus: the file on this baby is safe for carry-ons, so it's great for travel. This is bulkier than your traditional nail file, but not unreasonable to throw in a purse. I personally find it more useful to keep at home for when you have 15 minutes to make sure your nails are in good shape.

Great product

This works really well, especially for girls who have ridges in their nails like me. Makes them look really healthy and shiny. One word of caution: don't use the step 1 side too much or you will thin out the nail too much which will cause breakage.
Back
to top