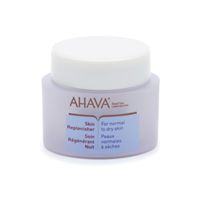 Ahava Skin Replenisher For Normal to Dry Skin
As low as
Least Favorite AHAVA product

There's nothing great about this cream. It's good for when you run out of your normal every day cream, but not even worth carrying in your handbag as the cream that you are trying to use up. I usually LOVE AHAVA products so much but this one is a real disappointment. Not the worst cream that I've ever used, but definitely doesn't come to mind when someone asks about a good cream. I saw no differen...read morece in my skin and didn't feel like it penetrated my skin that well either. I've tried this one in all season and even exfoliated before use to see if it could penetrate better...no chance. This is one of those creams that stays in your cabinet because there's no justification in throwing it out but you really dont want to use it again. Nothing special here. Try the other creams, but not this one (not even a special smell or feel). Also, it's not worth the price...drugstore brands are a lot better than this cream and this really feels like the below average drugstore cream.

Like most AHAVA products, this one is not bad

Like all AHAVA products, this one is not bad. The premise of all the products (for those of you who have yet to have an AHA(VA) moment is that they are made from Dead Sea muds. Rich and emoilent, this leaves skin glowing and feeling satisfied. Not my favorite AHAVA product but I would recommend it.
Back
to top