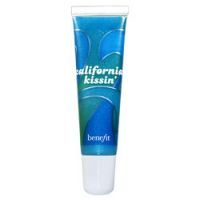 No.

Luckily I received this gloss as part of a free gift from the Benefit counter at Macy's awhile back. I did not like it. I have several other minty lip glosses I like better and on my fair skin the blue showed up way too much. I didn't think it made my teeth look whiter and I felt it had way too much sparkle. I ended up giving it to a friend and she said she didn't like it either.

Not impressed

I purchased this product very inexpensively and I have to agree with another reviewer when she said it was too blue on fair skin. It absolutely is. Beyond that, it's just another sparkly lip gloss and while it is minty, there are plenty of other minty lip glosses from Bath & Body Works & Victoria's Secret that will look a lot better when applied.

Lovely!

I don't usually fork out this much on a gloss, but my mum had a benefit set which contained this - I used it a couple of times and I loved it, so I bought my own! Don't be put off by the blue shade. It gives a lovely cool glimmer to your lips, with tiny glitter particles and is simply gorgeous. The minty smell is not too overpowering and I personally love it. I didn't particularly notice any whit...read moreening but then again, I wasn't expecting any! My only possible complaint is that it's not very long wearing. I had to reapply it three times during the night - but you don't need to use very much for a lovely shine. It's not sticky nor gooey, and I love it so much that I only use it on special occasions!
Back
to top