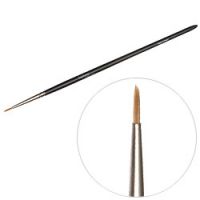 GREAT brush and GREAT value!

This brush works like a charm on all my liquid eyeliners. I haven't found anything that can get a perfect tee-tiny fine line like this brush does. It actually saves me money because I can buy cheap-o liquid eyeliners with horrible applicators and use my sephora brush to make them look fabulous. I haven't noticed any shedding, and the hairs are very soft. The only thing I do not like is the "l...read moreong handle". I have terrible vision and when I don't have my contacts in I can't get up close to the mirror to see what I'm doing.

Holds Up Great!

I use this brush everyday with my liquid eyeliner and not a single hair has come out! Great value.

Great for Powder or Liquid Liners!

I bought this brush as part of a set and I really like it! I don't use eye liner that calls for a separate brush that often, but when I do, this one gets the job done. I usually use it wet with a powder liner. It is small and makes a very fine line. I had no problem keeping the line in place and it didn't smudge at all.
Back
to top