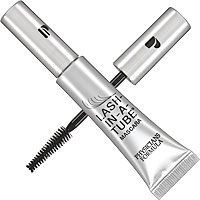 Don't Waste Your Money

This is THE worst mascara ever. It clumps, does not extend lashes or make them full. My lashes looked stubby and stuck together. I think I was lured by the concept of spreading the amount of product I wanted onto the wand. NO. This is simply an awful product.

Sorry, This Is a Product to Miss

The first thought that came to mind when I bought this was how innovative; now, this is something different. I pulled the tube out of the wand, there is something left around the outter tip but nonetheless I began to apply. Minutes later, I noticed my eyelashes clumping together and that this formula took quite a bit of time to dry. Unfortunately, I had to sneeze. And there it was, a glob of m...read moreascara underneath my eyes that still has yet to dry. Nevermind, forget about this. The product ironically takes forever to dry but hardens a little bit in the tube over time with air exposure making all other applications even more clumpier

Eww

Between this, the mascara in a fancy tube, and the tube that looks like a barbell...I'm convinced that Physicians Formula makes THE worst mascaras around. I bought this thinking that the tube might make it easier to get the product off the sides. As usual for PF, innovative packaging can't make up for a crappy product.
Back
to top