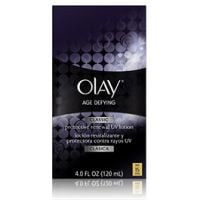 great sunscreen lotion

this doesnt smell like beach level spf lotion, or leave you that inpenatrable force field of white junk, like some sunscreen lotions do. it feels light, especially if you put it on while your skin is damp, and hasnt got any real negative qualities at all. i use it on my hands all summer, and my sisters have all used this and loved it. under 10$ for 6oz too, great value in a face product!

love it as much as ever

this is an old stand by, worked then, works now

An inexpensive but authentic product for your face.

Since becoming a stay at home Mom, I have learned to cut costs in every aspect of my life. The last one being my skincare. I thought that if I wanted smooth, clear skin I needed to break the bank, sorta speak. I finally decided to try some skin care products that were under $25, in this case in fact, only costing between $9.99 and $10.99, depending on where you shop. (Oil of Olay products are freq...read moreuently on sale too.) I remembered when I was a kid - my Mom's pink bottle of Oil of Olay in the cupboard, and thought why don't I give it a try? I was pleasantly surprised. It's a nice light moisturizer, that soaks in quickly and keeps my skin nourished all day long. It blends well with my foundation and I have noticed a decrease in dry spots and in breakouts since using it. It's amazing! And you can't beat the price!
Back
to top