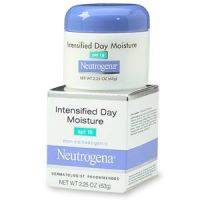 Not awful

With my awful experience growing up and using countless drug store brands that really irritated my skin and didn't do a thing to improve it (I have sensitive skin, eczema, and rosacea), I went to higher price luxury brands to heal my woes. I started noticing a favorable difference using the more expensive brands--until this last month. Winters in Arizona are fantastic, but the air has always been ...read moredry regardless of time of year. So it really irritated me that I started experience extreme dryness this past month. After wasting money on products that weren't working (weren't adequately moisturizing) and my face kept feeling tight and undernourished--I decided to go back to the brands I originally started with. I did a lot of research about products and decided to go instead with a product I hadn't researched (Neutrogena Intensified Day Moisture). When I put it on, I like that my face doesn't feel tight like lighter day creams. What I didn't like was the texture. It felt like putting on sunscreen. Don't get me wrong, sun protection is a HUGE must, especially in Arizona, but I hate the feeling of thick sunscreen (which is why I normally opt for a thinner fluid spf lotion). As far as breaking out goes, I experienced very little. I had one or two pimples develop, but nothing I would normally consider "breaking out" (as far as what I've experienced). This also gave me a somewhat ashy appearance for a few minutes, so for those worried about maintaining a bright complexion, I would skip this. So for those who don't mind the texture, and need that heavier day cream for their dry skin, I would give this a try. Unfortunately for me, I had to put this on the list of products that weren't for me.

Pretty good, but it made my eyes tear up badly

It's a good moisturizer, and it kept my face from getting sunburnt... But even if I deliberately kept the product away from my eyes it always somehow ended up making me tear up.

much better

I usuall use the healthy defense spf 30 by neutrogena but they were all out so I tried this one. This one is MUCH better. Its not as heavy at the spf 30. Not as greasy either. I will definitely be sticking with this one.
Back
to top